I've hit Wildcats northern loop a few times , Notably a year ago after a large blow-down. Hiking over trees in freezing temperatures , a heavy pack , and a 6 pound rifle was torture. Looking over reviews on the internet , you'd think this trail as impassable to the novice hiker. I can happily report all blow-downs have been removed or circumvented. Another surprise was the distance hiked was only 12 miles. Most references cite it as a 15 mile loop. Trip Odometer of 12.1 miles , Moving average of of 2.9mph in 4 hours 9 minutes.  This was accomplished "slack packing" with a base weight of  mostly 3 liters water ,  about 10 Lbs.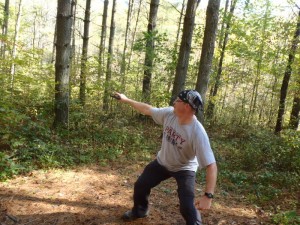 Terry demonstrating the proper technique for dispatching a horde of approaching Bloods. Hike-by style. I actually fired the Ruger LCP for the first time: missed a pop can from about 5 yards. With the low sites, and double action only, this is truly a last ditch weapon.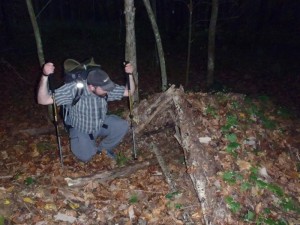 Found a cool little primitive camp less than a mile from the trail-head; i wouldn't sleep in it.
Overall with the trail maintenance this is one of my favorite hikes. No water is provided , and this time of year their is very little for filtering. The views are spectacular . although not picture worthy , as your under trees for most of the hike.  Game evidence was pretty sparse this year , I only saw one squirrel  , no deer and very little track sightings.  Bring some water during dry seasons , and enjoy the hike.