Lately I've kind of gotten away from backpacking. I'm training for a half marathon with a local MIT group. I've signed up to do a triathlon and have been training with a group of triathletes @ Triformance,  Between running and biking , I haven't got much dirt time in. Zaleski is a perfect place to get mileage in.
I didn't do much planning. My bag was packed with cold weather hiking in mind. The only adjustment I made was removing my crampons.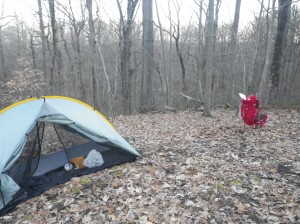 My Tarptent double rainbow and Osprey Variant 52. I love this tent every time I set it up. Tons of room  , and a lot of configuration options will keep me using it for 4 seasons. The Osprey backpack is designed for mountaineering and I find it works best for a winter pack.
My blackrock down beanie and mittens with Montbell jacket. I had feathered friends down booties and Montbell down pants but didn't need them. One of these days I need to get them all on and take a picture of the stay puff marshmallow man.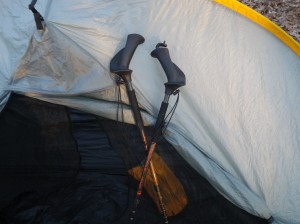 My carbon Pacer Poles. I've been using these for about a year now. They are very ergonomic and work well with gloves. I've found that common wrist straps tend to stress my wrists after high mileage days. The adjustment system seems to hold well for me so far.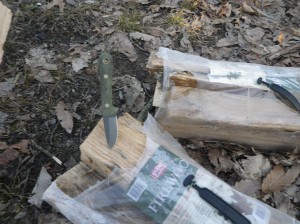 Another new piece of gear is Giant Eagle firewood. I heard from a friend @ work that some people he knew got busted driving their ATVs  up the trail. I suspect this was their wood. It burned awfully good. The new Blind Horse Knife is mine too.