I actively look for things on Kickstarter that can be used for hiking & photography. The trail Pix can be used for both and utilizes your hiking poles and a string stake setup. It's original incarnation was called the pole pod. It's creator Andy@nv8design.com has since been refining the concept , and I was lucky enough to score a prototype.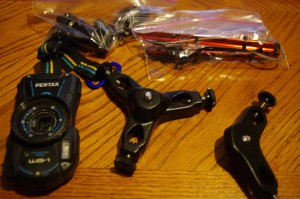 The fit and finish of the pre-production prototypes are excellent , I'd expect the finished injection molded units to be top notch. I received the 2 & 3 pole setups. I'd actually prefer the 2 pole setup , but can imagine people not hiking solo preferring 3. Scale weight of the 2 pole setup and tent stake with nylon string is 1.8 oz.  Another possibility is a stainless braided line that doesn't add much weight , and is supposedly more stable.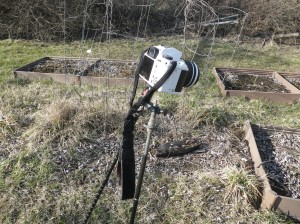 I did a quick set-up in the bare backyard garden with the 2 pole set-up and nylon cord. I found my HDR  shots were lacking as my remote had no battery and the HDR settings lacked a timer. I felt like this rig was stable as long as the winds aren't too fierce.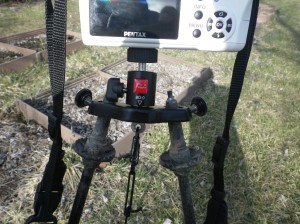 A closeup of the ball-head with very tight clearance.
I'm not the greatest photographer, and I don't think you need to be, to use a tripod (or dual pod in this case). Time lapse,long exposure, group shots,and HDR all benefit from using a stable platform .

This video reinforces why I'd use this product backpacking. I'll update this page when this product becomes available/and or on Kickstarter.