Located west of Portsmouth Ohio this 45 mile loop or 60 mile figure 8 promised a challenging hike. I started out , kinda late @ 10:00am at the trail head on Saturday. There was one other car their , with space for 50. At Zaleski I wouldn't have a parking spot on a Saturday morning. I had originally planned a 3 day 45 or 60 mile hike.  I was in for a surprise.
I managed to make it to camp 1 @6 miles no problem, I don't think I even looked at the time. My first mistake was taking in the scenery , taking pictures, & stalking game , even  though I had no intention of harvesting anything until the third day.  I could have limited out on squirrel ,  flushed out grouse and  a wood duck. On my way to camp 2,  I saw a sign that read  " camp 2, 4.7 miles". My watch read 3pm. My GPS read a 2.1MPH moving average. Sunset at 5 and change. Not only did I have pick up the pace, I couldn't take a break.
Panic mode sets in. Getting to an official camp site isn't that important to me. Getting water is. It's dry in Ohio, and the water is scarce. Every campsite @ Shawnee has cistern water sources and a privy. I'm double timing it over the harshest terrain I've ever hiked. 600 to 1200 elevation foot inclines. It doesn't sound like much if you've ever hiked the Appalachian trail, but for an Ohioan flatlander, it's torture.
A sign, ".5 miles to camp 2". You'd think a half a mile would be easy after traveling 12, it wasn't. I took my first spill in 4 years with hiking poles. 8 layers of dried leaves took out my left foot, and right pole on a 45 degree downhill.  My head landed softly in that pile of leaves. Luckily one of the many rocks that line the trail wasn't protruding. Later that evening I decided not to hike this trail solo again.
4:45 I make it to camp 2. Privy. Check. Fire Ring. Check. Water , no dice. Luckily a dry creek-bed is 50 feet from the privy. Looking upstream I see nothing, downstream some promising depressions reveal some nasty pools of water. I'll know in a few days if ingesting a few liters of filtered human waste was a good idea. I found out later this campsites water source is a mile down the road.
After a night of watching It's  Always Sunny in Philadelphia season 4 for third time, I broke camp at about 9:30. I figured the next day wouldn't be as grueling , no hunting, limited pictures, and hopefully easier terrain. Wrong , the terrain was harder. Later I found found the elevation gain and loss to be over 9000 feet. The last 5 miles was a cakewalk, and i cut my losses and headed for home with a paltry 24 mile 2 day outing. I had a three day food supply and would need 4-5 to make the south loop.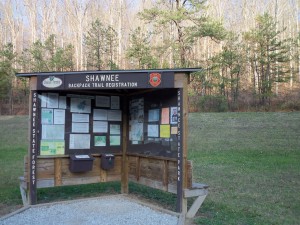 Trail Head registration. A nice display, but no maps, Print your own @ ODNR's website.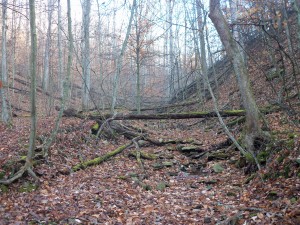 A stream crossing early in the trip.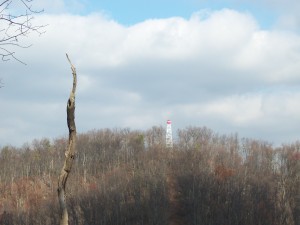 A fire tower on the next ridge. I'm not sure if it's accessible on the south loop or not.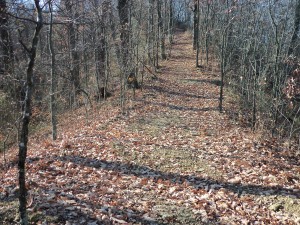 I tried many times to capture the steep switchbacks, but the pictures don't show how steep they are. This is a gentle 100 foot ridge climb after a tough 400 footer.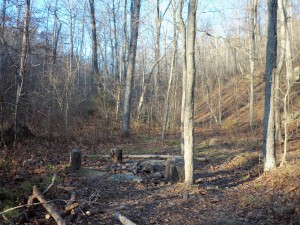 Camp 2 @ sunset.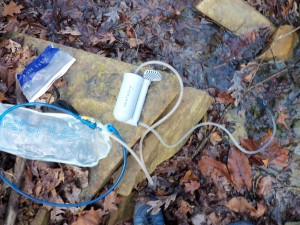 Filtering water in the morning. The Camel-back quick connect kit makes this easy.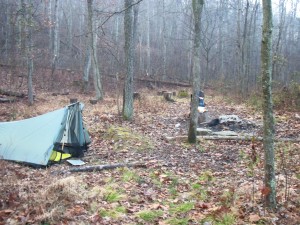 Sticking around camp late to ensure the fire was out , and drying the tent.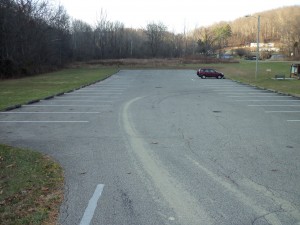 Empty parking lot. I never saw or heard another person or car until the last 5 miles near the boy-scout camp.  Overall this trail is probably my favorite in Ohio. It's in the largest continuous forest track in state and offers plenty of wildlife and solitude.